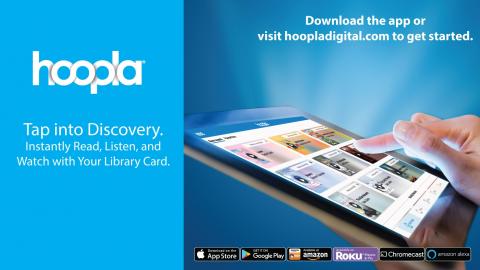 hoopla is a groundbreaking digital media service offered by your local public library that allows you to borrow movies, music, audiobooks, ebooks, comics and TV shows to enjoy on your computer, tablet, or phone – and even your TV! Titles can be streamed immediately, or downloaded to phones or tablets for offline enjoyment later. We have hundreds of thousands of titles to choose from, with more being added daily. hoopla is like having your public library at your fingertips. Anytime. Anywhere.
Ready to get started? Visit hoopladigital.com.
Need a little help with hoopla? Scroll through this guide for simple, one-page instructions on the following topics:
Get started with iOS
Get started with Android
Get started with Kindle
How to shuffle music on hoopla
How to use audiobook chapters on hoopla
How to use hoopla on Apple TV
How to use hoopla on Fire TV
How to use hoopla on Chromecast
How to use hoopla on Roku
Still need help? Call us at 419-396-7921 or 419-788-2768 to schedule a one-on-one help session.